Hotel Alpvita Piz Tasna – Your Hotel in Ischgl
More time. More space.
To let yourself drift away.
And to enjoy every moment.
Warm, authentic and down-to-earth - our Four-Star Superior Hotel Alpvita Piz Tasna in Ischgl is the ideal place for moments full of soothing tranquillity, serenity and indulgence. Look forward to a place of retreat that brings together modern Alpine rooms & suites, pure relaxation and excellent cuisine into one unforgettable holiday experience.
The perfect place for your holiday in Ischgl. Very close to the hiking and skiing area of the Silvretta Arena, surrounded by forests and meadows, our multi-faceted natural landscape entices you to engage in countless outdoor activities in both summer and winter. Meandering hiking trails and deeply snow-covered mountain slopes are within reach and thrill both active sports enthusiasts and nature lovers alike.
Take some time out for yourself and your loved ones, experience relaxing moments in a personal atmosphere and replenish your energy in the wonderful Tyrolean mountains.
We look forward to welcoming you.
Michaela with Roland, Michelle and Alina
Feel-good holidays in Ischgl
Capture moments of happiness at your hotel
in Ischgl.
You can expect to savour a wonderful break in the midst of the Paznaun mountains at our Four-Star Superior Hotel Alpvita Piz Tasna in Ischgl.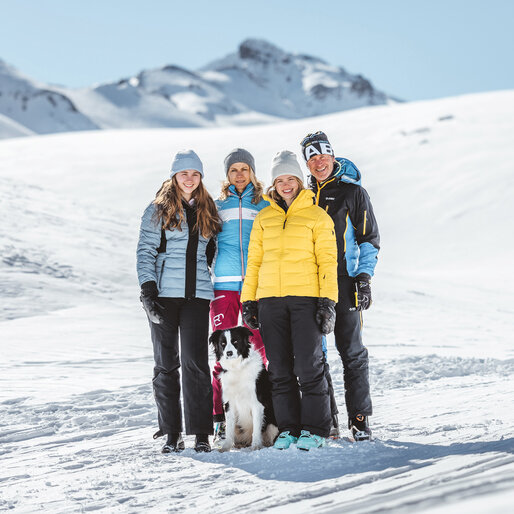 Hotel reviews
No one knows us as well as our guests.
Everything you could wish for in a hotel
Good quiet location slightly above the Ischgl Dorfstrasse (main street). Sumptuous hotel, wonderful breakfast and the hosts are all very friendly. We came for the second time and felt almost like regular guests! We will certainly come again, even if things are very different now we have to deal with corona!
Markus, HolidayCheck
Small hotel in a class of its own in Ischgl
We have been staunch regular guests of the Hotel Alpvita Piz Tasna for years now. The hotel is oriented towards family and is a small hotel in a class of its own in Ischgl. Despite the already high standards, the comfort and service of the hotel have been continuously and successfully enhanced for the benefit of the guests. A very young, very friendly, helpful and competent team supports the dedicated hotelier family in a very successful and effective manner. The culinary delights of the sumptuous breakfast and afternoon buffets as well as the evening menu with a choice of usually three different main courses are also particularly worthy of mention. The location of the hotel is perfect and very quiet, overlooking the centre of the village, which can be reached quickly on foot in 5 minutes, just like the mountain lifts. Ski runs to just outside the hotel are possible until the end of April.
Peter, Holidaycheck
Holiday full of indulgence
This was our second time staying at the Piz Tasna and we will definitely be back! The Salner family and their employees anticipate virtually your every wish and take care of every request quickly and in a very friendly manner.
The cuisine is absolutely superb and you will need to do a few kilometres of skiing not to regret your holiday at the Piz Tasna.
Olaf, Tripadvisor
Family-run hotel for a perfect holiday
This was our first time in Ischgl in December and therefore also our first time at the Piz Tasna. This family-run hotel has everything you could wish for.
Both the family as well as all the staff can read every wish from your eyes and work sensationally in making the guests happy.
From a hearty welcome to great rooms, a beautiful spa, a well-balanced breakfast, afternoon snacks and a small, yet charming bar.

J. Busch, Tripadvisor
All round perfection!
The stay was perfect from start to finish. Very nice staff, superb location of the hotel and the breakfast is the icing on the cake par excellence. Thank you very much!

Tamara, HolidayCheck
YOUR FOUR-STAR SUPERIOR HOTEL IN ISCHGL
Favourite places
to discover and enjoy.
insights & views
living environments
culinary delights
Alpvita Spa