Wellness & Spa Hotel in Ischgl
Where the body draws strength and the soul finds tranquillity.
Immerse yourself into our 400 m² wellness retreat and replenish your energy after a wonderful day's holiday in the Paznaun mountains. Just let yourself be carried away in the Alpvita indoor pool, treat your stressed muscles to some soothing warmth in the sauna area, put your mind at rest in the wonderfully fragrant steam room, experience pure relaxation during a massage or enjoy a restful nap in the relaxation rooms - you are sure to find time to switch off, relax and enjoy yourself at our spa hotel in Ischgl.
Pool
Sauna world
Massages
Fitness
Alpvita Indoor-Pool
Swimming towards relaxation.
Discover the element of water in all of its scintillating facets in our hotel with indoor pool - do your laps in the comfortable temperature-controlled water, listen to the gentle rippling of the waves, work out against the counter-current system or simply enjoy the wonderful feeling of weightlessness. Afterwards, let yourself drop onto our cosy loungers and snuggle into warm comfort.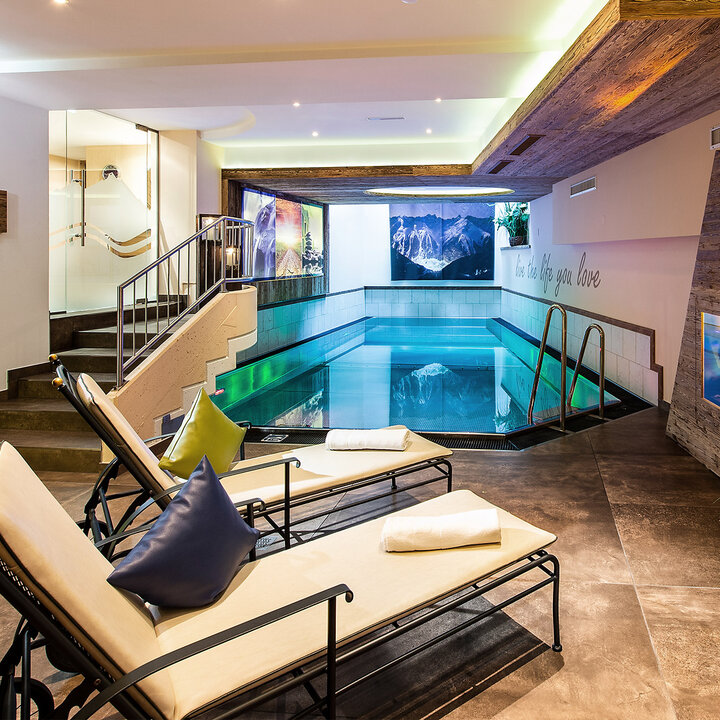 Sauna & steam room
Soothing warmth for body, mind and soul.
Our eclectic sauna area will make you work up a sweat in a very relaxed setting. You can enjoy a relaxing mixture of invigorating infusions, restorative warmth and natural aromas in our Stub'n sauna, non-nude sauna and infrared cabin as well as in the steam room and organic herbal steam bath. You can look forward to refreshing teas, juices and light snacks at our vitamin bar afterwards.
Sauna world
Massages
Gentle hands and deep well-being.
Nothing is more relaxing after a long hike or an extensive day of skiing than a soothing massage. Your tensions are released from the neck to the tips of your toes with exquisite care products and careful touches. Enjoy a new body sensation and your very own personal time-out in your spa hotel in Ischgl.
Massages
Fit & active
Powerful holiday moments in Ischgl.
Our fitness room has a weight station, treadmill, stepper, ergometer and vibration trainer for all those who are hungry for exercise and have not yet worked out enough in the richly varied mountain world around our Four-Star Superior Hotel in Ischgl. Why not treat your tired muscles to some relaxation in the Alpvita pool or in our sauna area afterwards?
Alpvita Spa
Opening times
Alpvita Pool
from 7.00am to 7.30pm
Saunalandschaft
from 3.45am to 7.30pm
(Even earlier in case of bad weather and on request.)
Fitnessraum
from 7.00am to 8.00pm