Winter holiday off the slopes
Active recuperation and idyllic natural backdrops for winter lovers.
Glistening snowy landscapes, majestic mountain peaks and a peaceful white winter wonderland that invites you to engage in impressive outdoor activities. Discover varied winter and snowshoe hiking trails during your winter holiday in Ischgl that will lead you to places of strength and far away from the stress of everyday life. Glide through the snow-covered mountain landscape of Paznaun on perfectly groomed cross-country ski trails or savour fun tobogganing sessions and relaxed laps on the ice rink with the whole family - this is how the programme of contrasts to skiing in Ischgl looks like.
Tobogganing
Winter hiking
Snowshoe hiking
Ice skating
Sledge rides
Down into the valley on two runners.
The wind blows around the tip of your nose, the snow swirls up and the tingling in your stomach from excitement simply cannot be described - this is pure tobogganing fun in the Silvretta Arena in Ischgl.
You can experience a toboggan ride under the glittering starry sky on the 7-kilometre long night toboggan run every Monday and Thursday. Look forward to a special event together with your family or friends. And for all those who want to sledge down the mountain during the day, there are perfectly prepared toboggan runs in Kappl, Galtür and See.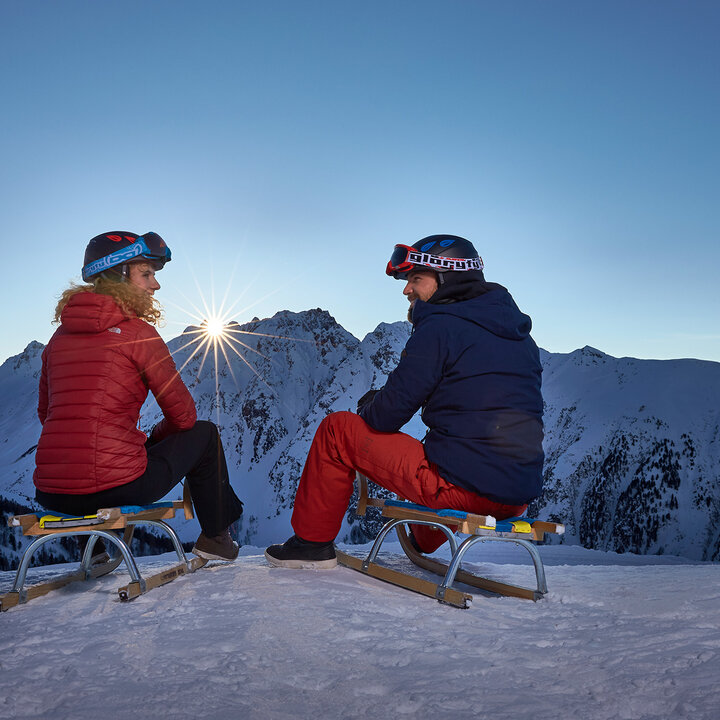 Winter hiking in Ischgl
Getting closer to nature step by step.
The crunching snow under your feet, the fascinating mountain scenery in front of your eyes and the tingling winter air on your skin - a winter hike through unspoilt landscapes and romantic forests is ideal if you want to take a break from everyday life, replenish your energy and let your thoughts drift away. A diverse winter hiking network awaits you around our hotel in Ischgl, extending over 60 kilometres from 1,060 metres in altitude up to 2,036 metres in altitude and leading you through idyllic winter landscapes.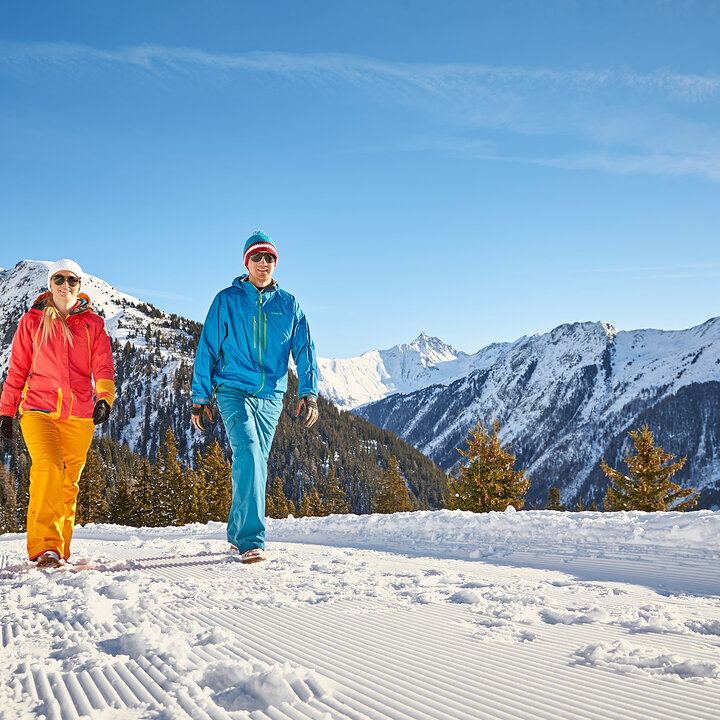 Snowshoe hiking in Tyrol
Explore the winter on foot.
Trudge through the sparkling winter landscape of Paznaun on snowshoes and in doing so, enjoy the unbelievable tranquillity and silence of nature - a source of strength that will let you find peace with yourself and make you forget all about the stress and hectic pace of life. Experience winter from its original side on prepared trails or across untracked snow fields. The experts at the Ischgl Ski School will reveal the most beautiful tours to you on guided snowshoe hikes.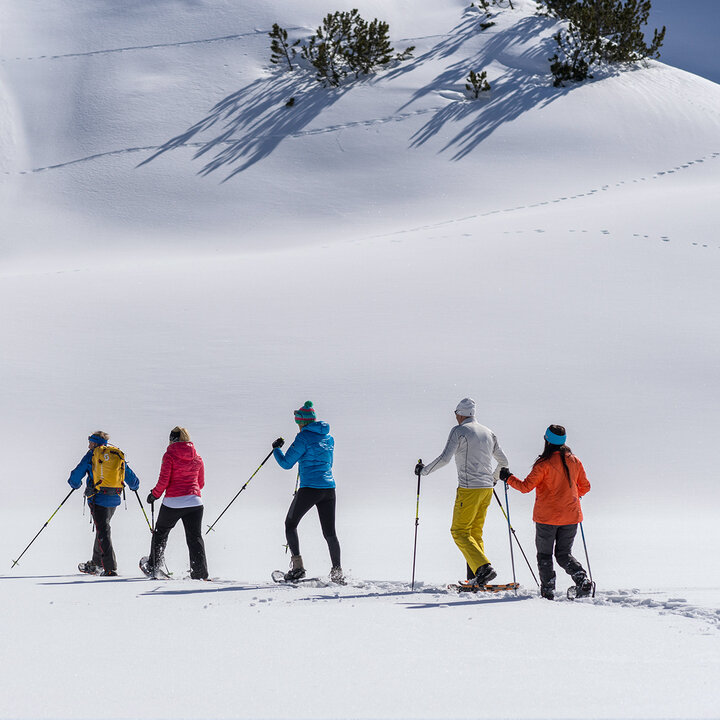 Ice skating & ice-stick shooting
A glistening paradise of ice.
Both young and old skating enthusiasts will find plenty of space on the natural ice rink to whizz across glassy ice or to take a leisurely spin on the ice, just a few minutes' walk from our Four-Star Superior Hotel in Ischgl, directly behind the Silvretta cable car. A game of ice-stick shooting or hockey with family or friends also ensures lots of fun and entertainment on the ice.